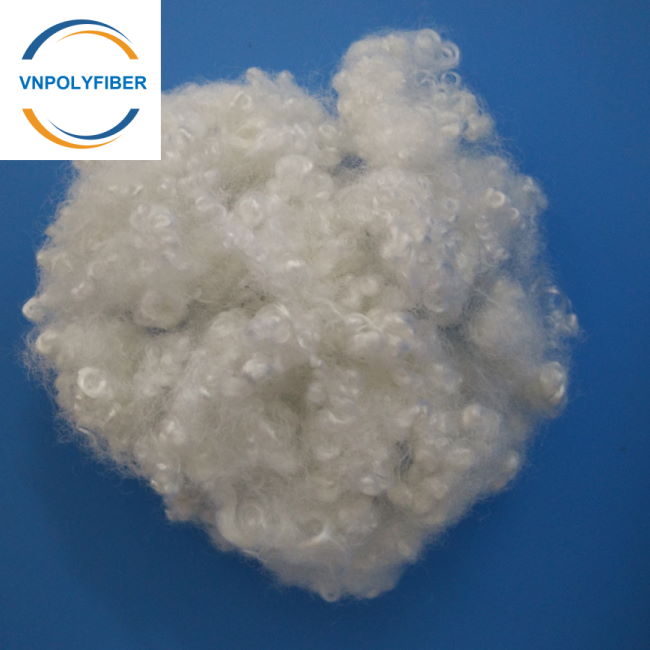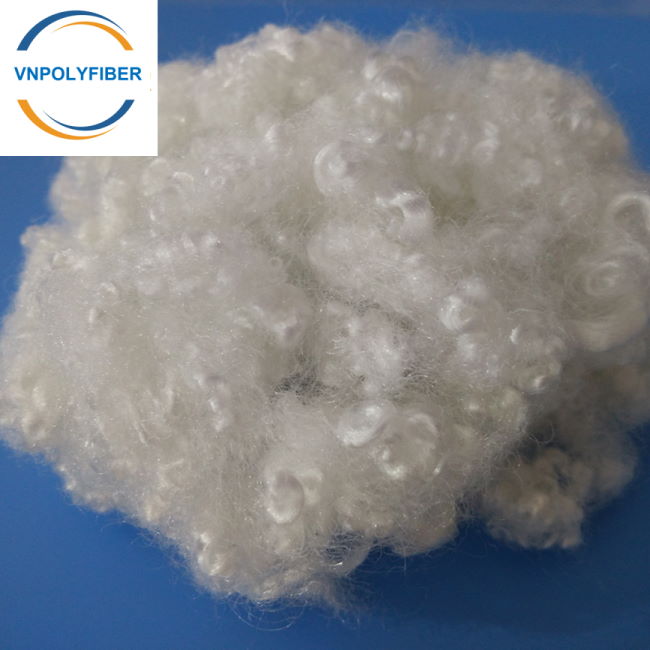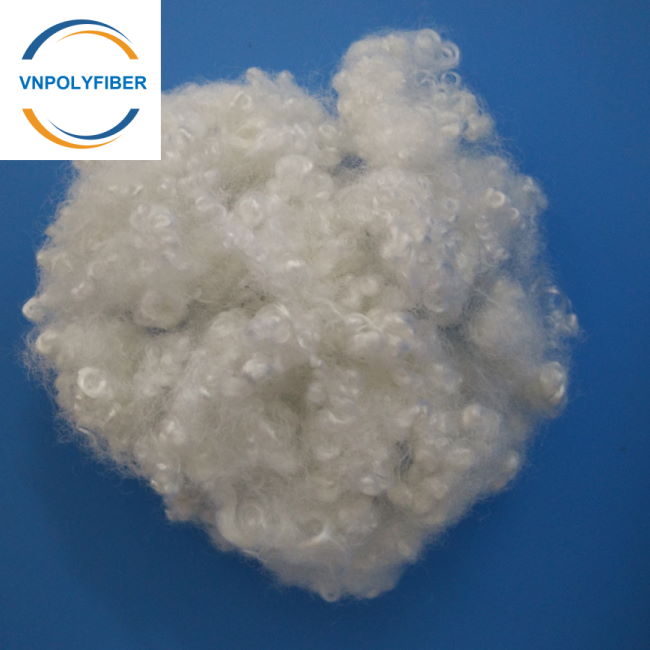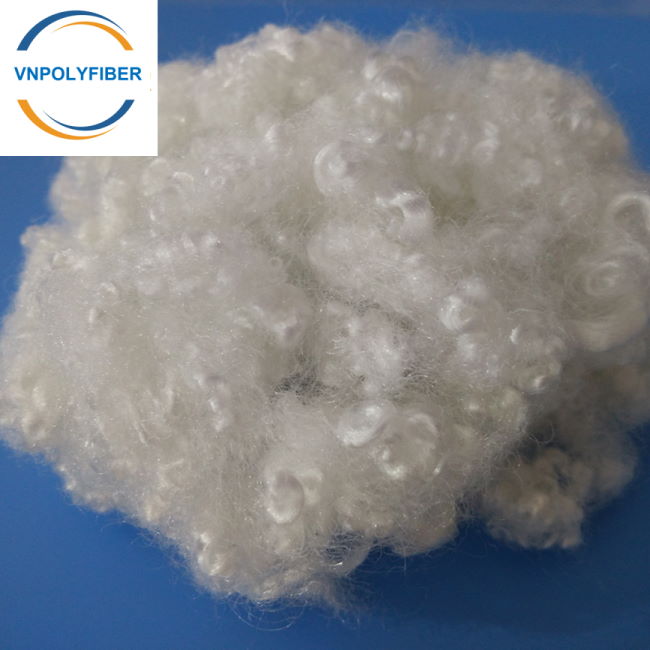 Low price recycled Hollow Conjugated Silicon Polyester Staple Fiber
Hollow PSF has better loft, recovery and warmth retention property than solid PSF, because there is a hole in single fiber, it can save some air.
Our hollow PSF is easy to be carded and good at bonding with low melting fiber.
It's mainly used for fiberfill, filtration, padding, wadding, insulation etc.
Specification
Denier:    6D-15D
Type:   Hollow Mechanical crimp
Grade:  Recycle, First quality
Color:  white, optical white,
​Cut Length:  32mm-76mm
Finish:   silicon, slick, dry, FR, antibacterial, low shrinkage
Application:  Filling, Wadding, fiberfill, insulation, filtration etc.
CALL NOW
WHATSAPP ME
PRODUCT DETAIL
What is Low price recycled Hollow Conjugated Silicon Polyester Staple Fiber?
Low price recycled Hollow Conjugated Silicon Polyester Staple Fiber  (PSF), which is made directly from PTA and MEG or PET Chips or from PET/ Polyester waste and post consumed PET bottles. It's used for spinning yarns and making geotextiles, as well as fill pillow, stuff toys, cushions ,etc. Virgin fiber will be used in PTA, and recycled will be used PET.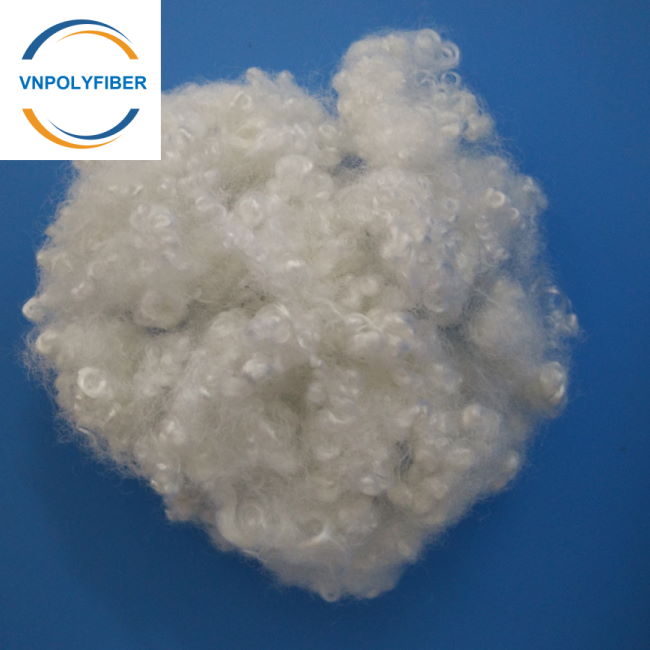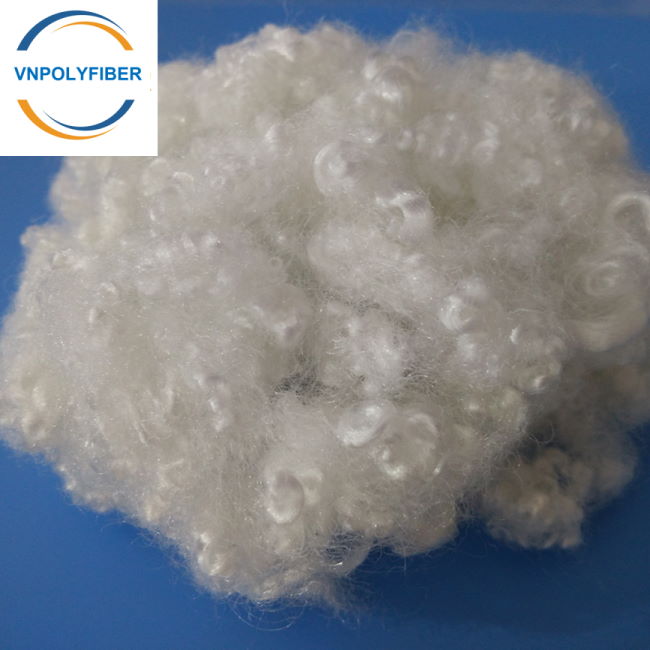 Virgin vs Recycled Polyester Filling?
Virgin polyester fiberball is made of petroleum oil which will harm the environment while recycled will be more eco friendly.
Features: high bulkiness and easy open, excellent tenacity, high resilience and durability, feather touch, light and soft;Environmentally friendly, excellent filling power, anti-static, durable
Application: Pillows, blankets, comforter, toys, filling material for bedding, furniture, spray-bonded cotton, polyester wadding, padding, non-woven, filling quilt, cushion, home textile, etc.
Why choose Polyester Fiberfill
Premium Polyester Fiberfill is absolutely the best performing fiberfill for pillows, dolls, stuffed toys and crafts. It offers a superior resiliency, smooth consistency, and will not bunch. It's made from recycled materials, and it is hypoallergenic and machine-washable. Add it to toys, pillows, and much more!
white 100% polyester product that is ideal for toys, pillows and crafts.   It is non-allergenic and hand washable.
Use Premium Polyester Fiberfill  for stuffed animals and dolls.
5 advantages of polyester staple fiber you need to know
Are you considering using polyester staple fiber (PSF) for your production?
Whether it is virgin or recycled polyester, they all have 5 key advantages below. Also remember we can supply filling material HCS PSF made in Viet Nam at very competitive price.
1. Does not warp:
Neither stretches nor shrinks. It has a resilience that other natural fibres do not have; for example, it does not wrinkle. This is why Lafayette Sports Stretch technology textiles are mostly made of polyester and lycra.
2. It can be combined with other materials:
As rayon, cotton, wool, nylon or viscose, increasing the quality of the final product and allowing a multiplicity of uses. That is why a company offers me a functional textile in which it takes advantage of the naturalness of cotton and combines it with the durability of polyester.
3. It is light:
This does not prevent it from being a solid and durable material.
4. Absorbs less moisture:
This allows it to repel fungus, mould and bacteria. This not only increases its durability but prevents the generation of bad odors, qualities that we have taken advantage of to protect technology.
5. Better absorb the inks:
Polyester garments usually have brighter and more durable colors and prints. For this reason, the offer of textiles for shirts, blouses and dresses, is composed mostly of polyester.
Both natural fibres and synthetic fibres have different characteristics and advantages; the main difference is the technology with which textiles are created, always taking into account the final use they want to give them
How to make Virgin Polyester Staple Fiber
Virgin Polyester Staple Fiber a synthetic man-made fibre that is manufactured from PTA & MEG through polymerization performed at a high temperature and pressure
After the spinning and drawing process, polymer becomes staple fibers when cut short into the form of cotton or filament yarns when made into the form of yarn.
Staple fibers are widely used for industrial use as well as for clothing.
They are not only used for filling of clothing, bedding and furniture in the form of cotton or for spinning after twisting cotton into yarn but they are also fabricated into non-woven fabrics through compression and used for a wide range of applications, including automobile, construction, furniture, sanitary materials and agriculture, gradually expanding their scope of application.
Application of virgin PSF
Automobile, Furniture, Sanitary products, Cleaner Filter, Various non-woven fabrics, Civil/construction materials, Clothing Sport wear, Premium padding, Inner wear, Bedding Accessory Interior
Polyester benefits
Polyester fills are typically less expensive to produce than down and feather or microfiber fills making them practical and cost efficient
Polyester fills are hypoallergenic and are ideal for products designed for allergy sensitive sleepers
When it comes to easy maintenance, polyester fills are tough to beat and easy-to-care-for
Adding a silicon finish to polyester fills provides a slick hand similar to down and feather fills
Application:
Features: high bulkiness and easy open, excellent tenacity, high resilience and durability, feather touch, light and soft;Environmentally friendly, excellent filling power, anti-static, durable
Application: Pillows, blankets, comforter, toys, filling material for bedding, furniture, spray-bonded cotton, polyester wadding, padding, non-woven, filling quilt, cushion, home textile, etc.
Advantage of Viet Nam PSF HCS Hollow Conjugate Fiber Siliconized :
– Warm keeping :The hollow polyester staple fiber is lighter by 20% than ordinary fiber with its hollow Construction. It makes no air convection in fiber to keep warm. It can keep body warm by wrapping warm air and isolating cold air. The fiber is light and good in warm keeping.
– Good hygroscopicity :Hollow polyester staple fiber can discharge the moisture quickly in the body skin and keep dry and warm, reduce the un comfortable sticky feeling with its advantages of special wicking effect and large surface.
– Soft feeling in hand, good fall :It bright soft and comfortable feeling in hand to touch the hollow polyester staple fiber fabric. Compared with the daily heavy thermal fabric, it is more easily wet, dry and comfortable. It is very soft and excellent in pendency.
– Wide application: Hollow polyester staple fiber is a high quality material for the high-grade fabric. Blended with cotton, wool and viscose fiber, it is widely used to make thin thermal underwear, warm winter casual wear and sportswear with good warm keeping, soft feeling and soft luster. It is also used to make soft and thermal socks and gloves with wear resistance. It is also used to make light and soft tweeds.
Polyester Staple Fiber used in Non-woven Industry
Luster
Denier
Cross Section
End-Use
SD
1.5, 1.7, 2, 3, 4, 6 & 15
Solid
Nonwoven Interlining,
Sanitary Material,
Microfiber and Thermal
Bonding
FBR (Black)
1.5, 1.7 & 3
Solid
Needlepunch, Resin
Bonding & Fiberfill
SD
1.5 & 4.5
Solid
Dyeable Fabric &
High-Pile
SD
6, 8 & 15
Hollow and
Hollow-Siliconized
Resin Bonding,
Needlepunch, Fiberfill,
Flame Retardant Fabric,
Anti Bacteria &
Platinum Photon Fiber
SD, BR,OBBR
0.7, 1.1, 1.2, 1.4, 2.0, 6,
8, 12, 15 & 20
Solid
Low Pilling, Knitting,
Fiberfill, Thermal
Bonding, Needlepunch,
Infrared Fiber &
Resin Bonding
SD
2, 3, 4.5, 7, 12 & 15
Hollow Conjugate
Resin Bonding,
Needlepunch &
Fiberfill
SD
7
Hollow Conjugate
Anti-Bacteria
Polyester Staple Fiber as per Direct End Use
Type
Denier
Section
End Use
Anti Pilling
1.4, 1.5, 2, 2.5 & 3
Solid & Hollow
Sportswear, Underwear,
Casual wear
Bamboo Charcoal
1.5, 1.7 & 6
Hollow
Bedding, Shoe pad, Cushion, Thermal Sock
Spinning Use
1.3, 1.4, 1.5 & 1.7
1.5
Solid
Hollow
Sportwear, Casual Wear,
Underwear
Dopedyed Black
1.5, 2 & 3
Solid
Nonwoven, Casual wear,
Sport wear, Underwear
Flame Retardant
1.4
Solid
Home, Comfort &
Clothing textiles
Micro Fiber
0.8 – 1.0
Solid
Cloth & Fleece
High Tenacity
1.2
Solid
Yarn, Cloth & Water
transport
High Void
Conjugate
3, 7, 12 & 15
Hollow
Toy Padding, Badding,
Furniture Cushion, etc
Regular Fiber
2, 2.5, 3, 6 & 15
Solid
Nonwoven, Filter
medics, Padding, etc.
Other keywords:
Fibras discontinuas de poliéster 15d * 64mm hueca siliconada
Blanco barato relleno de fibra de poliéster lavable hsc Guata de poliéster de fibra
Discontinuas de poliéster de fibra de poliéster de residuos-La sra.
Technical Parameter
| | |
| --- | --- |
| Product type | Recycled Polyester Staple Fiber |
| Fineness | 7D / 15D |
| Cut length | 32mm / 51mm / 64mm |
| Luster | semi dull |
| COLOR | Raw white |
| Pattern | Hollow Siliconized & Hollow Non-Siliconized |
| Raw Material | 100% PET flakes |
| Grade | Recycled, AAA grade |
| Packing details | 250kg-350kg/PP woven bag/bale |
| Delivery time | 5-20days after 30% deposit |
| Payment Term | TT30/70; L/C at sight |
| MOQ | 1x40HQ; 22 – 23 tons/container |
| Quality | First quality |
Specifications of Polyester Staple Fiber Viet Nam

Denier Size:  3D, 6D, 7D, 10D, 15D
Cut length: 32mm, 51mm, 64mm, 76mm,
Feel: siliconised or non siliconised soft as well as harsh feel
Tensile strength: 3.5 to 4.5 gm/Denier
Elongation: 40 to 60%
Oil Pickup: minimum 0.20% to 0.35%
Crimps: 3 to 5 per cm
Shades: All shades available
Color Fastness: 4+
Quality: Hollow Conjugate Siliconised Fiber, Hollow Non-Conjugate Siliconised Fiber, Solid Fiber Siliconised/non Siliconised
Application: Cushions – Pillows – Quilts – Toys – Jacket – Mattress – Non woven carpet – Automotive felts, speaker felts, geo textiles, polyfill wadding, filter fabrics and other acoustics as well.
FAQ
1. What do you offer?
We produce recycled hollow conjugated siliconized and non-siliconized polyester staple fiber mainly, we can make hollow fiber (HS/ HD) and virgin polyester staple fiber HCS as well.
2. What is it used for?
Our fiber is widely used in filling, non-woven fabric
3. Are you a factory or a trading company?
We are a factory specialized in polyester staple fiber for many years but now we also have our own professional trading company. We will source many types of textile products such as yarn, PP fibers from others to supply our own customers as well. We also provide our own customers with other related products such as: Foam, Pillows, Cushions, Toys, Down/ Feather,…
4. Where is your factory location?
Our factory locates in the north and the south of Vietnam. You can visit us from Ho Chi Minh City and Hanoi City, Vietnam. You could contact our salesman to fetch you if visiting.
5. Can you accept free sample?
Yes, the hand sample is free when not exceed 1 kilograms. Upon price confirmation, we will provide a sample within 2-3 days; the freight cost will be charged to client.
6. Can you provide ODM service?
Yes, we work on ODM orders. Which means size, material, quantity, design, packing solution, etc, will depend on your requests, and your logo will be customized on our products.
7. How about your quality? What's the minimum order Quantity (MOQ)?
Please try a trial order, you will know it. The MOQ is 23,000 Kilograms/order, but the price will be lower if you order bulk volume.
8. Can I mix different items in one order?
Sure, you can mix any products we can provide.
9. How can you guarantee the product quality?
We have experienced QC team. We control not only productive process but also raw material. In addition, we have different kinds of testing instrument to help us guarantee the product quality.
10. What's the payment terms?
L/C at sight, 30% TT in advance are mostly accepted; other terms shall be negotiable by both sides
---
For more information, please feel free to contact :
Mr. Tony Tan
Mobile number: +84 90 466 5251 (Whatsapp/Wechat/Viber/Signal)