Recycled synthetics may be made from pre-or post-consumer synthetic fiber waste. The two most common forms of recycled synthetics are recycled polyester and recycled nylon polyamide.
Recycled polyester may be made from pre-or post-consumer waste, and post-consumer recycled bottles are the most common source of recycled polyester. Recycled polyester is often referred to as rPET. Pre-consumer polyester may include waste from the spinning of yarn or the cutting of garments. Post-consumer waste includes plastic PET bottles, industrial fishing nets as well as some used clothing. Methods of recycled may be mechanical (melting plastic and then extruding into yarn) or chemical (going back to the monomer or polymer phase before extruding yarn).
Recycled nylon is processed chemically, similar to recycled polyester. It usually is made from pre-consumer spinning or fabric waste and may also come from post-consumer industrial fishing nets.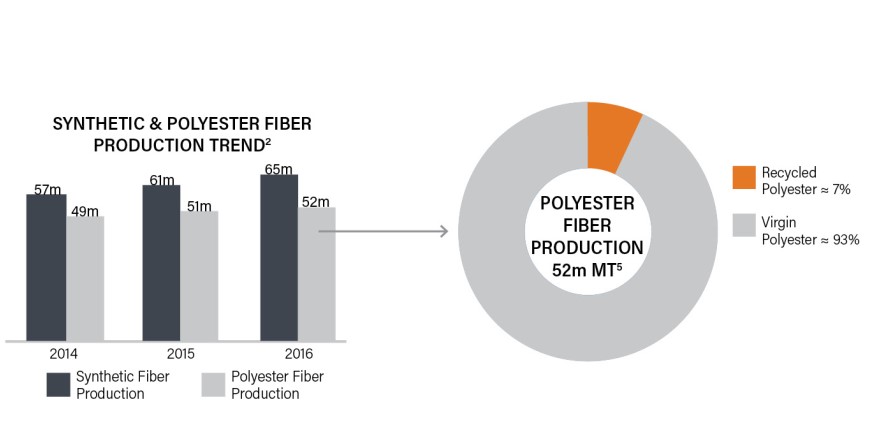 HOW MUCH POLYESTER IS RECYCLED?
In 2016, polyester fiber production is estimated at 52 million MT.
At less than four million MT, recycled polyester (which is the key fiber in preferred synthetics)  makes up an estimated seven percent of polyester fiber produced — these fibers are largely used in carpets, blankets, clothing, and other textile applications.
Government initiatives increased awareness, relatively low production cost, and increase in virgin polyester uptake have seen a surge in recycled polyester growth — which is expected to continue — with China, India, Japan, and the US projected to account for the highest production.
RECYCLED POLYESTER SUPPLY CHAIN
The general process of transforming seed cotton from the farm into the final garment includes ginning, spinning, weaving/knitting, dyeing, finishing, cutting, and sewing. Organic certification ensures that the cotton passing through each stage of the manufacturing process is tracked.

RECYCLED SYNTHETICS STANDARDS
The Recycled Content Standard (RCS), or the Global Recycled Standard (GRS) verifies that the raw material is recycled, categorizes it as either pre-consumer or post-consumer, and then tracks the material through to the final product. The GRS provides additional social and environmental processing criteria. Other voluntary sustainability standards that cover recycled materials include the SCS Global Services' Recycled Content Certification.


 All about Synthetic fabrics
Synthetic fabrics derived from petrochemicals make up 65% of all textiles produced globally with polyester being the most used.
Growing consumer concern about the climate crisis and micro-plastic pollution makes switching to more sustainable alternatives an attractive opportunity.
A growing market for sustainable sources of synthetics has emerged including recycled fibers (mainly from other waste plastic but also some from reusing textile waste) and bio-based (rather than oil-based).
Up to a million tons of plastic microfibres pollute oceans and waterways each year from the washing of synthetic clothes.
In 2015, polyester produced for clothing emitted 282 billion kg of CO2 – nearly three times more than cotton.
Polyester does not biodegrade in landfills and, if produced without proper wastewater treatment systems, releases dangerous substances into the environment.
Up to a million tons of plastic microfibres pollute oceans and waterways each year from the washing of synthetic clothes.
In 2015, polyester produced for clothing emitted 282 billion kg of CO2 – nearly three times more than cotton.
Polyester does not biodegrade in landfills and, if produced without proper wastewater treatment systems, releases dangerous substances into the environment.
In the last 10 years, a new generation of recycling has emerged which takes synthetic materials already in existence (plastic bottles, ocean plastic, pre & post-consumer waste textiles) and recycles them into new quality fibers.
Search for Global Recycled Standard certified manufacturers here (by entering GRS in the standard box at the side) and read on to discover more suppliers.
ECONYL® regenerated nylon is a product that is made from rescued plastic waste like fishing nets and industrial plastic.
Nylon fiber is then completely regenerated to produce a product that is identical to its virgin counterpart and infinitely recyclable.
Brands using Econyl® include Kowtow (pictured here), Finisterre, Outerknown, Triumph, H&M, Stella McCartney, La Perla, and many more.
Bionic Yarn has a range of yarns from coastal and ocean plastic waste, including blends with other fibers.  As used by Timberland, Burton, G-Star, O'Neill, H&M, and Chanel.
Repreve® is a performance fiber made from recycled materials including plastic bottles. Over 12 billion bottles have been recycled so far.
Brands currently using Repreve® include Patagonia, Volcom, Prana, Quicksilver, Mara Hoffman, Kathmandu, and Lane Silver.
NewLife yarns from Sinterama come from 100% post-consumer waste plastic bottles transformed through a mechanical, not chemical process.
Teijin works with sportswear manufacturers on its recycled Eco Circle line not just to develop products made of recycled polyester but also to collect and recycle them again at the end of their useful life.
According to Teijin, this repeatable recycling system reduces energy consumption and carbon dioxide emissions by approximately 80% each.
The Teijin ECO STORM® is a recyclable, waterproof/breathable material made from recycled fibers. The material is waterproof and breathable making it excellent for outdoor wear.
Osomtex yarns and fabrics are made completely from discarded post-consumer and post-industrial textile waste.
The upcycling process uses no water, no dyes, and no harsh chemicals. In March 2018, Stella McCartney created an upcycled, zero-waste sock with Osomtex yarn (pictured).
Riopelle's Tenowa fabrics are made from waste from the textile industry. They have a soft hand-feel and are anti-static. Q Nova from Fulgar is made, mechanically, from the scraps from their other production. It is lightweight and takes dye well.
Launched in March 2019 Primaloft Bio®, which comes as both an insulation (for padding) and fabric, claims to be the world's first recycled and biodegradable fabric. In landfill or sea conditions it will break down in under one year however it can also be recycled into new fiber.
Primaloft has partnered with Helly Hansen, Houdini, LL Bean, Vaude, and Norrona for the first production and the fabric will be retailed from 2020.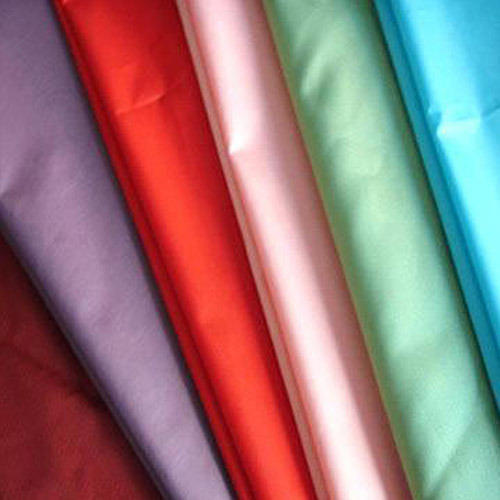 Bio-based synthetic fabrics
Mango Materials uses methane as a waste gas to produce polyester
Japanese company, Toray's Ecodear is a plant-based, biodegradable synthetic fiber
Virent and FENCCorp created a fully bio-based polyester t-shirt in 2016
Evo from Fulgar is a yarn made from castor oil – a renewable resource that does not require high amounts of water nor takes away from land for food production
Natural Fibre Welding has a performance fabric made from cotton that could be used to replace synthetics for some applications.
Biodegradable synthetic fabrics
Addressing the microplastic problem is Italian fabric specialist Pontetorto whose Biopile fleece is made from Lenzing's cellulosic fiber Tencel and therefore does not shed microplastics when washed. The fabric was used by outdoor brand VAUDE for their AW 2018/19 collection.
Mectex's T-Green fabrics, Miti's Bioback, Santaconstancia's CO2 control nylon fabrics, and Sofileta's Green Oblige range use Amni Soul Eco nylon which biodegrades in a landfill in under five years.
Fabric supplier, Brugnoli, is using fellow Italian company, Fulgar's bio-, and recycled-polyester fibers to supply more sustainable polyester to the fashion industry.
Brugnoli's Br4® fabric range uses Evo® by Fulgar® (see the previous slide). These fabrics are light and stretchy with good thermal control.
Their B.Recycled range uses the regenerated nylon fiber Q-Nova® by Fulgar® and claims to be a 'zero kilometer product because of its supply chain that can be fully traced from the Fulgar recycling factory to the Brugnoli mill nearby which produces, dyes, and finishes the fabric.
Online fabric wholesalers Vivify Textiles offer a wide range of recycled polyester and nylon fabrics including satin, chiffon, crepe, interlock, and suede, as well as blends with organic cotton.
Portuguese fabric supplier, Tintex commits to using at least 60% sustainable materials in its custom-designed fabrics.
It is also a member of the Ellen MacArthur Foundation's "Make Fashion Circular" initiative and has said it "aims to amplify and grow an eco-sustainable strategy for all its production".
Responsible synthetics on offer include innovative fabrics blending recycled polyester, Roica Ecosmart™ yarns, and Tencel®.
For designers wishing to print on recycled polyester, Print Unlimited in the Netherlands has a range of plain and printed knitted fabric made from Vita recycled polyester which is ideal for dresses and activewear.
Acrylic, polyamide, nylon, polypropylene, PVC, spandex (AKA lycra or elastane), aramid, etc, are all different types of synthetic fibers that are derived from petroleum and therefore have a very similar impact on the environment as polyester.
Source from https://textileexchange.org/learning-center/preferred-recycled-synthetics/