Recycled synthetics may be made from pre-or post-consumer synthetic fiber waste. The two most common forms of recycled synthetics are recycled polyester and recycled nylon polyamide.
Recycled polyester may be made from pre-or post-consumer waste, and post-consumer recycled bottles are the most common source of recycled polyester. Recycled polyester is often referred to as rPET. Pre-consumer polyester may include waste from the spinning of yarn or the cutting of garments. Post-consumer waste includes plastic PET bottles, industrial fishing nets as well as some used clothing. Methods of recycled may be mechanical (melting plastic and then extruding into yarn) or chemical (going back to the monomer or polymer phase before extruding yarn).
Recycled nylon is processed chemically, similar to recycled polyester. It usually is made from pre-consumer spinning or fabric waste and may also come from post-consumer industrial fishing nets.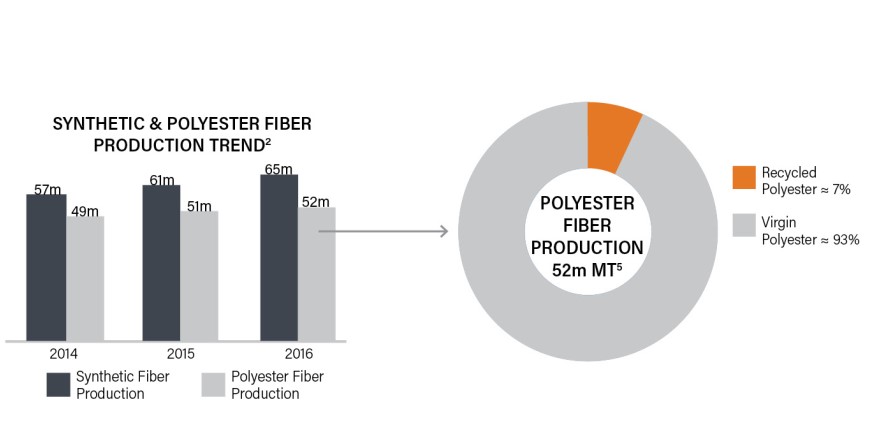 HOW MUCH POLYESTER IS RECYCLED?
In 2016, polyester fiber production is estimated at 52 million MT.
At less than four million MT, recycled polyester (which is the key fiber in preferred synthetics)  makes up an estimated seven percent of polyester fiber produced — these fibers are largely used in carpets, blankets, clothing, and other textile applications.
Government initiatives increased awareness, relatively low production cost, and increase in virgin polyester uptake have seen a surge in recycled polyester growth — which is expected to continue — with China, India, Japan, and the US projected to account for the highest production.
RECYCLED POLYESTER SUPPLY CHAIN
The general process of transforming seed cotton from the farm into the final garment includes ginning, spinning, weaving/knitting, dyeing, finishing, cutting, and sewing. Organic certification ensures that the cotton passing through each stage of the manufacturing process is tracked.

RECYCLED SYNTHETICS STANDARDS
The Recycled Content Standard (RCS), or the Global Recycled Standard (GRS) verifies that the raw material is recycled, categorizes it as either pre-consumer or post-consumer, and then tracks the material through to the final product. The GRS provides additional social and environmental processing criteria. Other voluntary sustainability standards that cover recycled materials include the SCS Global Services' Recycled Content Certification.


 All about Synthetic fabrics
Synthetic fibers are inorganically made man-made fibers, made from chemicals based on oil products And Synthetic fabrics are made from synthetic fibers as a substitute for natural fabrics, with the better qualities of these natural fabrics in them.
The chemicals used to make the synthetic fibers like sodium hydroxide and carbon disulphide are derived from coal, oil, or natural gas.
All synthetic fibers are filament fibers with a rod-like structure, long, circular when cut in a cross-section. The synthetic fabrics have a smooth and shiny appearance. They are lightweight but very strong, much stronger than the natural fabrics – a very desirable quality; they are all poor conductors of heat; They are generally easily maintainable, with less creasing. The fabric dries quickly. They have natural elasticity and flexibility. Easy maintenance is what attracts it to you and me as clothing fabrics. These fabrics are, to top it all, inexpensive.
Now to the bad- Synthetic fabrics do not have the breathability of natural fabrics. They do not absorb moisture, which makes them rather uncomfortable on the skin.  All of them melt with a chemical odor when put to flame and leave molten beads as residue. This will stick to your skin if you are wearing it when it is melting. It is considered as a Burn Hazard by the US military.
The cost to the environment due to the manufacture, use and disposal of synthetic fabrics are many –  air pollution and water pollution are the first things (and the worst) that come to my mind.The fact that they are non-biodegradable and can remain in the same form for many many years spells even more doom.
However bad or good or the best you think they are, there is no escaping from synthetic fabrics for us humans."  The global market size of synthetic fiber is projected to expand at a compound annual growth rate of 7.25% between 2018 and 2023″ 
Synthetic fabrics derived from petrochemicals make up 65% of all textiles produced globally with polyester being the most used.
Growing consumer concern about the climate crisis and micro-plastic pollution makes switching to more sustainable alternatives an attractive opportunity.
A growing market for sustainable sources of synthetics has emerged including recycled fibers (mainly from other waste plastic but also some from reusing textile waste) and bio-based (rather than oil-based).
Up to a million tons of plastic microfibres pollute oceans and waterways each year from the washing of synthetic clothes.
In 2015, polyester produced for clothing emitted 282 billion kg of CO2 – nearly three times more than cotton.
Polyester does not biodegrade in landfills and, if produced without proper wastewater treatment systems, releases dangerous substances into the environment.
Up to a million tons of plastic microfibres pollute oceans and waterways each year from the washing of synthetic clothes.
In 2015, polyester produced for clothing emitted 282 billion kg of CO2 – nearly three times more than cotton.
Polyester does not biodegrade in landfills and, if produced without proper wastewater treatment systems, releases dangerous substances into the environment.
In the last 10 years, a new generation of recycling has emerged which takes synthetic materials already in existence (plastic bottles, ocean plastic, pre & post-consumer waste textiles) and recycles them into new quality fibers.
Search for Global Recycled Standard certified manufacturers here (by entering GRS in the standard box at the side) and read on to discover more suppliers.
ECONYL® regenerated nylon is a product that is made from rescued plastic waste like fishing nets and industrial plastic.
Nylon fiber is then completely regenerated to produce a product that is identical to its virgin counterpart and infinitely recyclable.
Brands using Econyl® include Kowtow (pictured here), Finisterre, Outerknown, Triumph, H&M, Stella McCartney, La Perla, and many more.
Bionic Yarn has a range of yarns from coastal and ocean plastic waste, including blends with other fibers.  As used by Timberland, Burton, G-Star, O'Neill, H&M, and Chanel.
Repreve® is a performance fiber made from recycled materials including plastic bottles. Over 12 billion bottles have been recycled so far.
Brands currently using Repreve® include Patagonia, Volcom, Prana, Quicksilver, Mara Hoffman, Kathmandu, and Lane Silver.
NewLife yarns from Sinterama come from 100% post-consumer waste plastic bottles transformed through a mechanical, not chemical process.
Teijin works with sportswear manufacturers on its recycled Eco Circle line not just to develop products made of recycled polyester but also to collect and recycle them again at the end of their useful life.
According to Teijin, this repeatable recycling system reduces energy consumption and carbon dioxide emissions by approximately 80% each.
The Teijin ECO STORM® is a recyclable, waterproof/breathable material made from recycled fibers. The material is waterproof and breathable making it excellent for outdoor wear.
Osomtex yarns and fabrics are made completely from discarded post-consumer and post-industrial textile waste.
The upcycling process uses no water, no dyes, and no harsh chemicals. In March 2018, Stella McCartney created an upcycled, zero-waste sock with Osomtex yarn (pictured).
Riopelle's Tenowa fabrics are made from waste from the textile industry. They have a soft hand-feel and are anti-static. Q Nova from Fulgar is made, mechanically, from the scraps from their other production. It is lightweight and takes dye well.
Launched in March 2019 Primaloft Bio®, which comes as both an insulation (for padding) and fabric, claims to be the world's first recycled and biodegradable fabric. In landfill or sea conditions it will break down in under one year however it can also be recycled into new fiber.
Primaloft has partnered with Helly Hansen, Houdini, LL Bean, Vaude, and Norrona for the first production and the fabric will be retailed from 2020.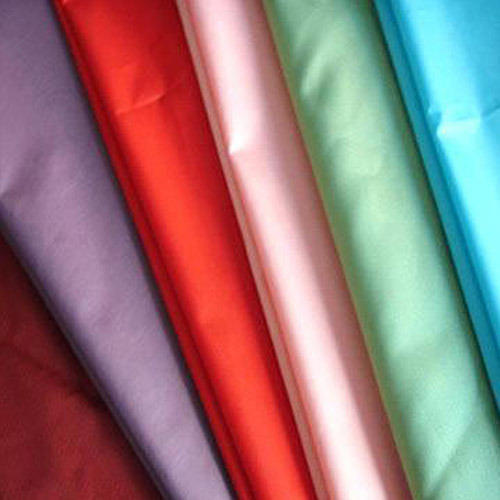 Bio-based synthetic fabrics
Mango Materials uses methane as a waste gas to produce polyester
Japanese company, Toray's Ecodear is a plant-based, biodegradable synthetic fiber
Virent and FENCCorp created a fully bio-based polyester t-shirt in 2016
Evo from Fulgar is a yarn made from castor oil – a renewable resource that does not require high amounts of water nor takes away from land for food production
Natural Fibre Welding has a performance fabric made from cotton that could be used to replace synthetics for some applications.
Biodegradable synthetic fabrics
Addressing the microplastic problem is Italian fabric specialist Pontetorto whose Biopile fleece is made from Lenzing's cellulosic fiber Tencel and therefore does not shed microplastics when washed. The fabric was used by outdoor brand VAUDE for their AW 2018/19 collection.
Mectex's T-Green fabrics, Miti's Bioback, Santaconstancia's CO2 control nylon fabrics, and Sofileta's Green Oblige range use Amni Soul Eco nylon which biodegrades in a landfill in under five years.
Fabric supplier, Brugnoli, is using fellow Italian company, Fulgar's bio-, and recycled-polyester fibers to supply more sustainable polyester to the fashion industry.
Brugnoli's Br4® fabric range uses Evo® by Fulgar® (see the previous slide). These fabrics are light and stretchy with good thermal control.
Their B.Recycled range uses the regenerated nylon fiber Q-Nova® by Fulgar® and claims to be a 'zero kilometer product because of its supply chain that can be fully traced from the Fulgar recycling factory to the Brugnoli mill nearby which produces, dyes, and finishes the fabric.
Online fabric wholesalers Vivify Textiles offer a wide range of recycled polyester and nylon fabrics including satin, chiffon, crepe, interlock, and suede, as well as blends with organic cotton.
Portuguese fabric supplier, Tintex commits to using at least 60% sustainable materials in its custom-designed fabrics.
It is also a member of the Ellen MacArthur Foundation's "Make Fashion Circular" initiative and has said it "aims to amplify and grow an eco-sustainable strategy for all its production".
Responsible synthetics on offer include innovative fabrics blending recycled polyester, Roica Ecosmart™ yarns, and Tencel®.
For designers wishing to print on recycled polyester, Print Unlimited in the Netherlands has a range of plain and printed knitted fabric made from Vita recycled polyester which is ideal for dresses and activewear.
Acrylic, polyamide, nylon, polypropylene, PVC, spandex (AKA lycra or elastane), aramid, etc, are all different types of synthetic fibers that are derived from petroleum and therefore have a very similar impact on the environment as polyester.
1. Nylon
Nylon is one of the most used synthetic fabrics; Since it was produced as a replacement for silk by DuPont, it has had unprecedented growth in usage across all sectors –  apparel,, industrial, home furnishing, automatic, construction, etc. The nylon fabric is preferred for its qualities like strength, resistance to abrasion, flexibility, quick-drying, water resistance, etc.
You can learn more about Nylon fabric here.
2. Polyester
Polyester was another discovery by the DuPont company. It is now the most popular apparel fabric in the world. The durability and strength of polyester fabric along with its cost-effectiveness and easy maintenance make it the chosen fabric for most fast-fashion labels.
Read more on Polyester fabric and Polyester fabric care for answers to frequently asked questions like "Will polyester shrink" etc.
3. Acrylic
Acrylic, the fabric that closely resembles wool fabric is a pure synthetic fabric. It is understandably made as a substitute for wool. You get acrylic wool yarn which can be knitted into fabric or you can buy acrylic clothing at a fraction of the price of wool, but just as warm and soft. In fact many wool garments that you buy may be made of acrylic. The un-informed person can easily be fooled because of its close resemblance to wool in softness and appearance. Read more about acrylic fabric here.
4. Spandex 
Spandex is a true blue synthetic fabric made of Polyurethane with a lot of elasticity; an alternative name for spandex is Elastane. It can stretch up to 400% of its original length and spring back in the same condition. It is lightweight and can wick moisture from the body. This fabric is the most popular choice for clothing that requires flexibility like sports apparel, exercise wear, form-fitting clothes, swimwear, etc. Most of the casual clothing today will have some amount of spandex fibers woven into its fabric.
More on Spandex here
5. Olefin
"Olefin fiber is a synthetic fiber made from a polyolefin, such as polypropylene or polyethylene" Wikipedia. It is not much of an apparel fabric but it is widely used in home furnishing, making ropes, etc. It is one of the most environmentally friendly fabrics among the synthetic fabrics as the production process is so and it is recyclable. It is strong, lightweight, durable, and is available in many textures.
6. Synthetic fur, leather and Suede
Synthetic fur/ leather and suede are manufactured to replace costly leather and suede and have most of the appearance of fur/leather/suede right about them. Synthetic suede resembles suede leather. They are widely used to make accessories like bags, shoes, belts, etc as well as clothes like pants, jackets at very less cost than that of leather/suede or fur. Synthetic leather is made with a polyurethane face and has a knit or woven backing. The synthetic suede is made of nylon/polyester blended yarn and then the fabric is brushed to get the appearance of suede
Read more on synthetic Suede materials here.
7. Neoprene
This is a waterproof synthetic rubber (Polychloroprene ) used in the apparel industry. It was invented in 1930 by DuPont company as a  substitute for natural rubber. It is latex-free, very strong, waterproof, and resistant to damage from solvents, oils, weathering, and abrasion. It is used to make bags, laptop sleeves, scuba wear, wet suits, and sportswear.
8. Polyester fleece
Polyester fleece is a two-sided pile/napped fabric made from polyester fibers. Microfleece is a very lightweight and soft synthetic knit fabric. Polyester fleece fabric has the insulating capacity of wool. In fact, it is warmer than wool and lightweight too. It was first made by Maiden Mills USA and marketed under its trademark names Polartec and Polar Fleece.
Read more about fleece here.
9. Microfiber
Microfiber is a synthetic textile made from ultra-fine yarns like acrylic, polyester, and nylon. Microfiber is  1/20 the diameter of a silk fiber, which is the finest of natural fibers. It is  used to make clothes and upholstery and very famously as cleaning cloth
Read more about Microfiber here.
10. Acetate
It is a soft and shiny fabric used a great deal in dressmaking, made of with spun filaments of cellulose.
Read more about Acetate fabric here.
Some very famous Branded Synthetic textiles 
11. Lycra® 
Lycra® is the registered trademark of Invista for a very resilient spandex fabric .
12. Gore-Tex®
Gore-Tex Fabric is one of the most waterproof fabrics available. It is produced by W. L. Gore & Associates, Inc. It has a special coating on it made of expanded Polytetrafluoroethylene (PTFE-Teflon) that makes it water proof but breathable
13. Tactel®
TACTEL® is a very lightweight and soft form of Nylon  with a crinkle finish developed to make clothes.  Superior strength and durability and easy maintenance are other advantages.
14. Kevlar
If you are looking out for fabric for making Bullet proof clothes do not go further than Kevlar. It is one of the strongest of all synthetic fibers. Infact it is said to be 5 times stronger than steel. It was developed by DuPont company in 1971.
15. Artic Fleece®
Artic Fleece is a superior polar fleece developed by Menra Mills. It is light, insulating, breathable, abrasion- resistant, easy to wash and quick-dry and is used  extensively in active outdoor apparel
16. Polartec
Polartech is the trademarked name for a biodegradable polyester fabric (polyester fleece)made from recycled plastic bottles by Maiden Mills USA.
17. Dacron® & Terelyne
Dacron is the registered name for polyester material by Dupont. Terylene [ICI], along with Dacron® [DuPont] in the U.S, are the first commercially marketed polyester fibers. They are strong, hypoallergenic, non-absorbent, and mildew-resistant fabrics with high resistance to stretching,and degradation by chemical bleaches and abrasion.
18. Coolmax®
Coolmax is the brand name for a series of polyester fabrics developed and marketed by Invista (Wikipedia)" Moisture wicking, quick-dry and comfort are the qualities that this fabrics bring to apparel industry."They're designed to transport moisture away from the body to keep wearers cool and dry to help them optimize their performance at different levels" says their website here
19. Cordura®
Cordura is one of the toughest fabrics today. It is used to make outdoor clothing and military apparel because of its strength, endurance, and water-resistant, abrasion-resistant qualities. It is made with high tenacity air-jet textured nylon 6,6 filament yarns. It can also be blended with natural fibers. The registered brand name is the property of INVISTA.
20. Darlexx®
This is the registered brand name of a fabric with windproof, waterproof, and breathable qualities with high stretchability belonging to the Shawmut Corporation.
21. Nomex®
This is a heat-proof fabric that is used to make garments for firefighters, astronauts racing car drivers, and in the petrochemical industry where contact with heat and fire is present. The fabric has a low level of flammability and does not melt or drip like other synthetic fabrics and is very strong and durable.You can read more about its durability in the dupont website dupont.com.
21. Supplex® 
This is a 100% nylon fabric by INVISTA with the feel of cotton with extra qualities of anti-abrasion, breathable, holds shape, anti-tear, waterproof, dries fast, retains color and can be UV protective.
22. DrySport®
Dry sport fabric is the registered trademark of InSport for a fabric used for making sportswear, like cycling jerseys. It is double-faced with one side nylon and other side Polyester-Spandex blend. Its moisture-wicking property pulls dampness away from the skin keeping the body comfortable at all times.
23. Toughtek®
This is the brand name for an abrasion-resistant grip fabric owned by Harrison Technologies. It is non-slip in wet, dry, hot, and cold conditions.
24. Solarmax®
This is the fabric used to make flags and banners which are always out in the sun because of its extra ultraviolet resistance. It is a 100% Nylon fabric.
25 Schoeller® – keprotec
A group of highly tear and abrasion-resistant fabrics used to make protective clothing made with tough Kevlar® fiber. They are owned by Schoeller Textil AG, Switzerland, and were made originally for motorcycle racing. They have other trademarked textiles with high performance like  Schoeller®-stretch light, Schoeller®-prestige.
26. Rhinotek®
This refers to high-grade abrasion-resistant water-resistant fabrics that are coated with a patented Copolymer formulation by Harrison Technologies.
27. Nano Care 
This is a range of stain repellent fabrics from Nan-Text textiles. The fabric is coated with a special textile finishing called Nanotex which uses nanotechnology to increase resistance to spills and stains.
28. Lurex®
Lurex is the registered trademark name for a type of yarn. It is a yarn made from a thin strip of aluminum sandwiched between two plastic films. The metallic sheen is the highlight of fabrics made with this yarn. The best thing about fabric made with this fabric is that the metallic sheen does not fade or tarnish. No more using of gold or silver to get that permanent and luxurious sheen to your clothes and at a fraction of the cost. Read more about this fabric here.
29. Avora®
Avora is the trademarked name for Flame resistant polyester fiber from INVISTA ( the new name of DuPont). It is used to make Flame-resistant fabrics with permanent flame resistance.
30. Dyneema & Zylon – the strongest fibers
Dyneema is a high-end laminate fabric constructed from non-woven composites. Zylon ( PBO fiber) is a synthetic fiber produced by Toyobo Corporation. These are said to be the strongest of all synthetic fibers.
Source from https://textileexchange.org/learning-center/preferred-recycled-synthetics/
https://sewguide.com/synthetic-fabrics-fibers/