What Is Siliconized Polyester Filling?
Stuffing or batting is a thick, sometimes stiff material used to stuff toys, quilts, clothing, and other crafts. They are made from different materials such as cotton, viscose and polyester. In contrast to cotton padding, polyester padding consists of synthetic fibres. Siliconized polyester batting is a material developed to prevent allergens, bacteria and dust from adhering to the batting.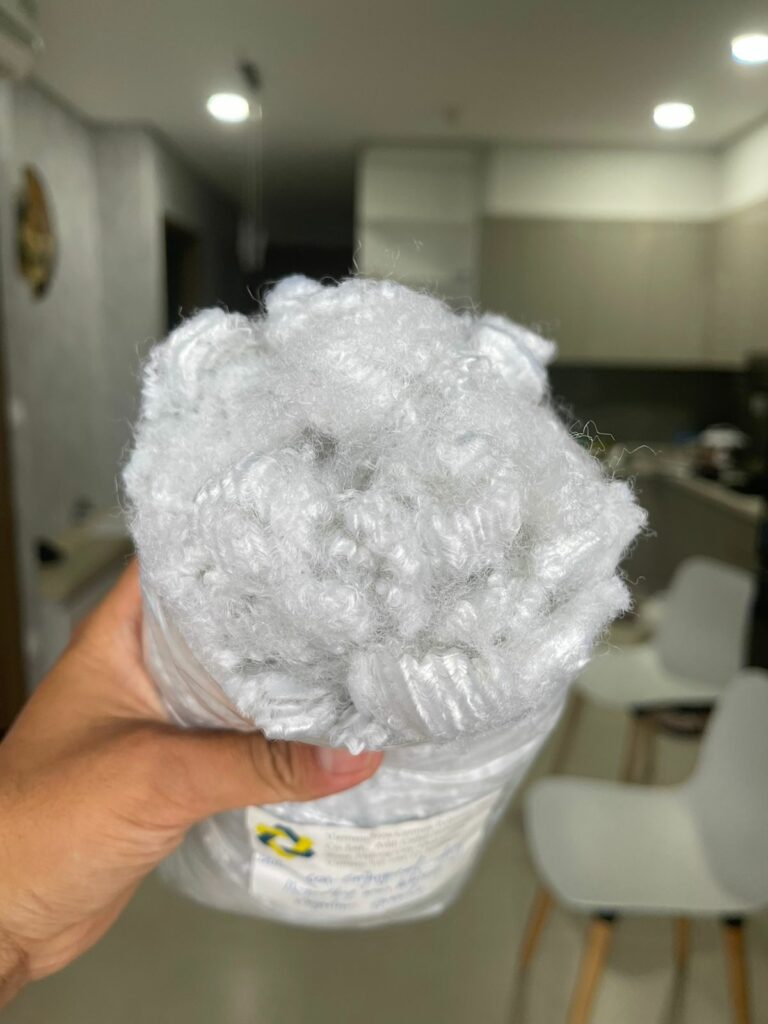 Definition
Siliconized polyester filling is a type of batting or batting material made from synthetic fibers treated with silicate materials, which is the one that protects this filling from attracting all kinds of bacteria and dust.
The fibers help dry any dust or bacterial cells that come into contact with the padding. During the manufacturing process, siliconized polyester fibers are collected into small balls and rolled. Balls can be used for various filling purposes.
There are different types of fiber fills according to their origin. Virgin fibre comes without intervention or blends, directly from the machine and posterior silicate treatment, while re-generated fibre fills come from the material left after processing the virgin fiber. Even if both have different densities and re-generated materials are more cost-effective, both types have the same properties and durability.
Siliconized polyester filling is commonly used as padding for many types of projects. Because it repels dust, it can be used for furniture and accent filling that touches sensitive areas of the body, such as mattresses, pillows, sleeping bags and duvets. Toys for children with dust allergies can also be filled with this material. All polyester padding retains heat, so only thick, heavy garments should be stuffed with this material.

Pros and Cons
Is siliconized fiberfill safe?
Siliconized polyester filling has mites and bacteria repellent properties and is therefore considered antibacterial and hypoallergenic. Polyester fill is mildew resistant and holds its shape better than cotton fill.
However, since the fibers of polyester filling are hard, it is more prone to discoloration than cotton filling. Because polyester retains heat, items filled with this material are not as breathable as cotton-filled clothing and blankets.
In addition to its antibacterial and cushioning properties, its production processes which do not involve the use of harsh chemicals, a continuous source of water and the exploitation of animal species, siliconized fiber is being preferred worldwide in the manufacture of pillows, mattresses, cushions, pads, quilted, childcare products and even furniture, playing a very important role in the home furnishing industry.
Cleanup
Sewing projects and crafts using siliconized polyester require special care when washing and removing stains. Once you've made a pillow out of this stuffing, cover it with a pillowcase for easy care. Materials with siliconized polyester fillers are very sensitive to heat, so avoid ironing or use only low heat settings. Dirt sticks to siliconized polyester. Therefore, use a commercially available stain remover and allow it to soak into the stain before washing. Items made from siliconized polyester can be washed and dried at home or dry cleaned.