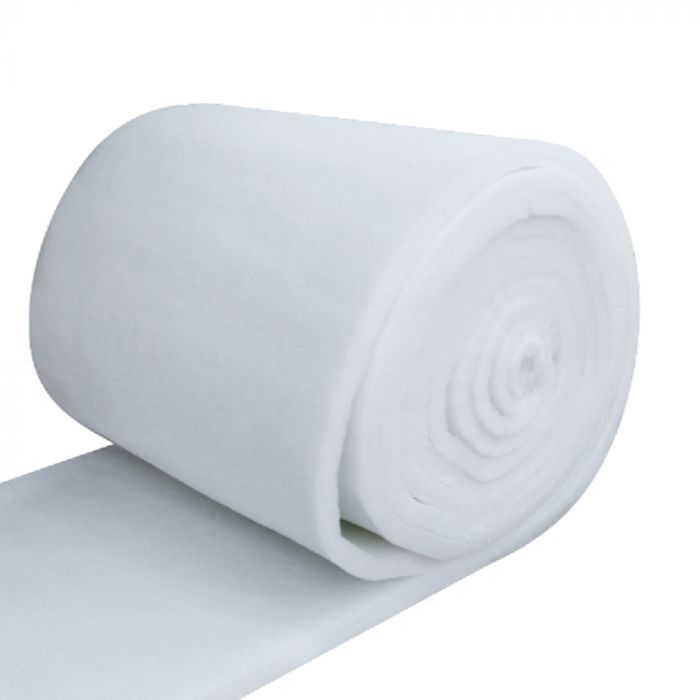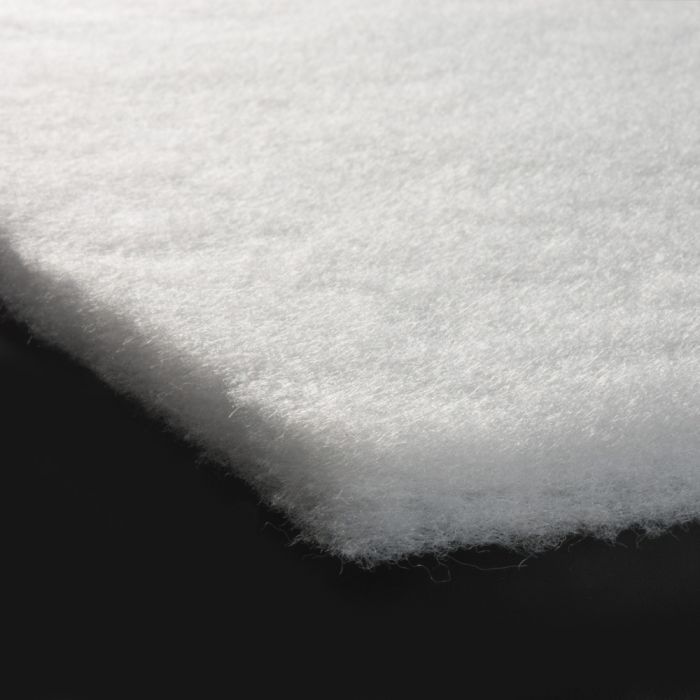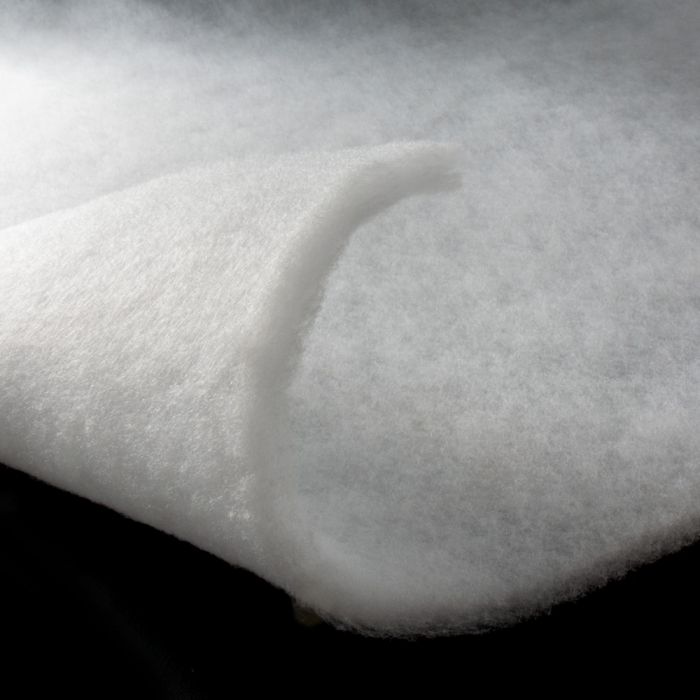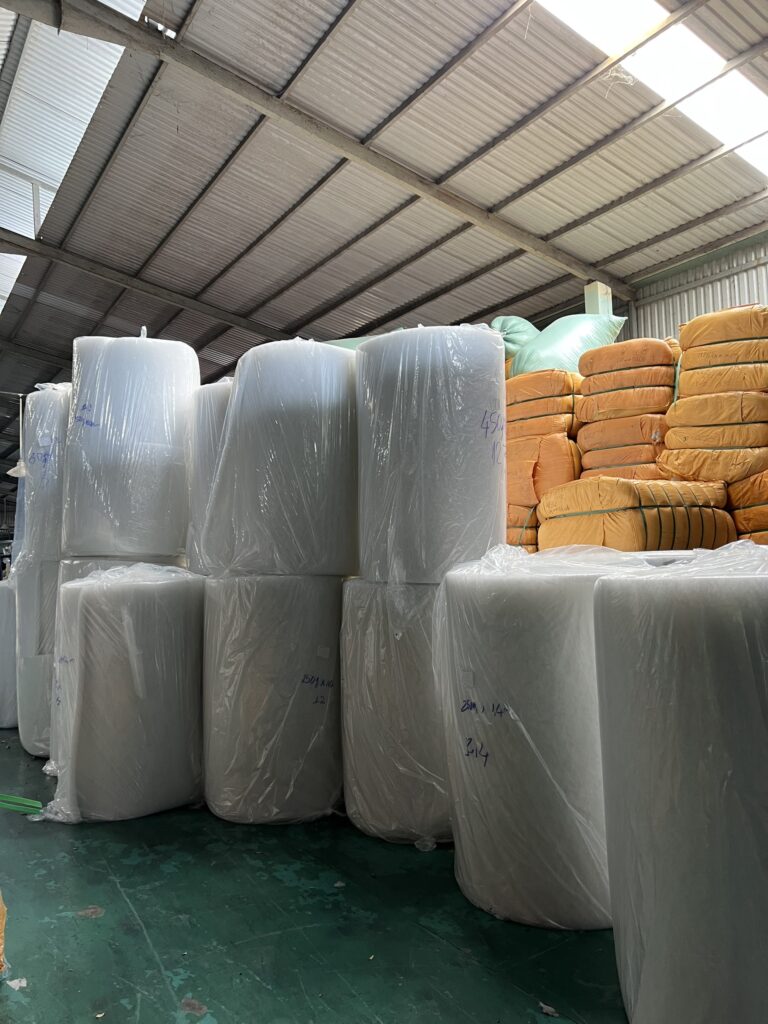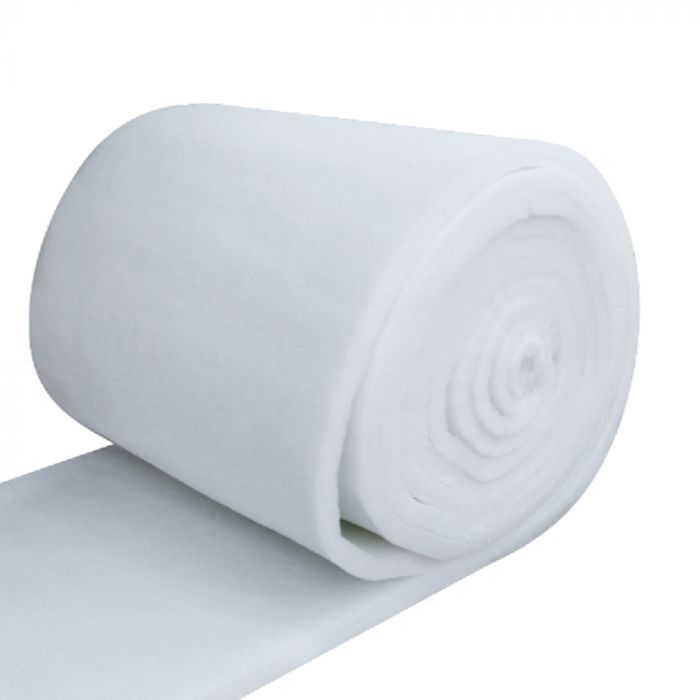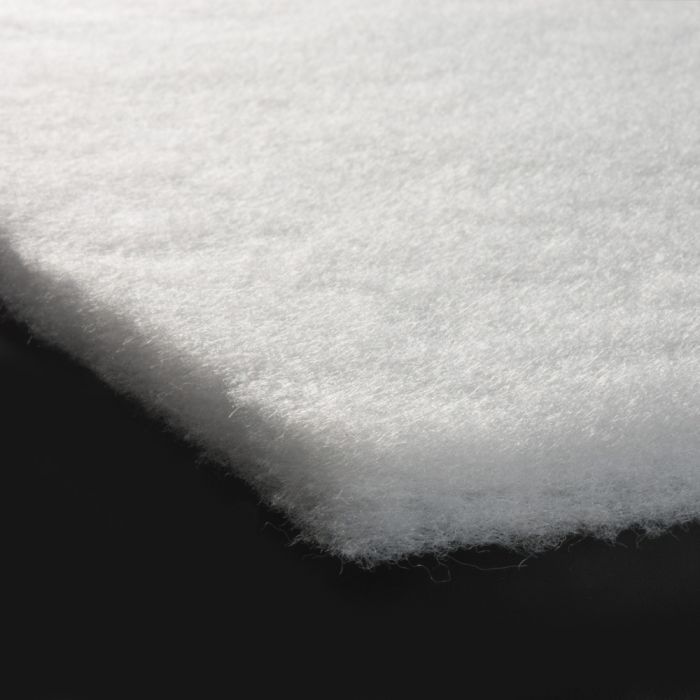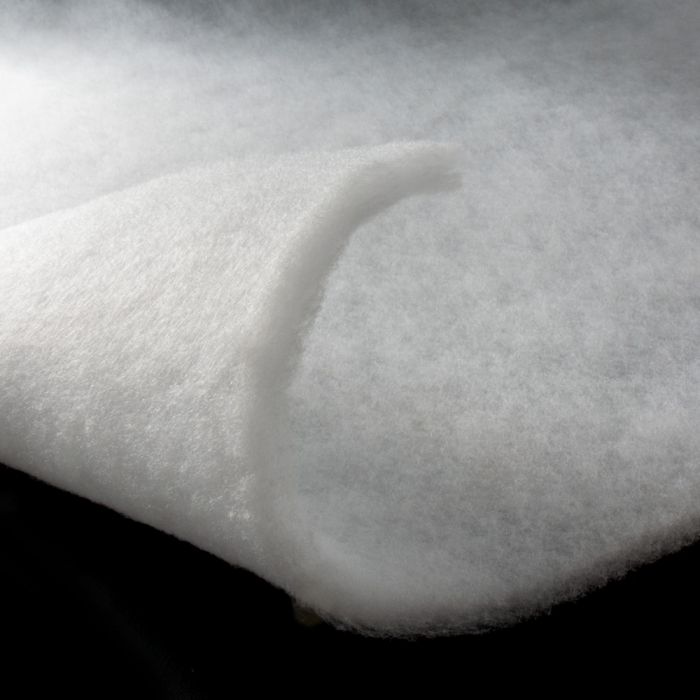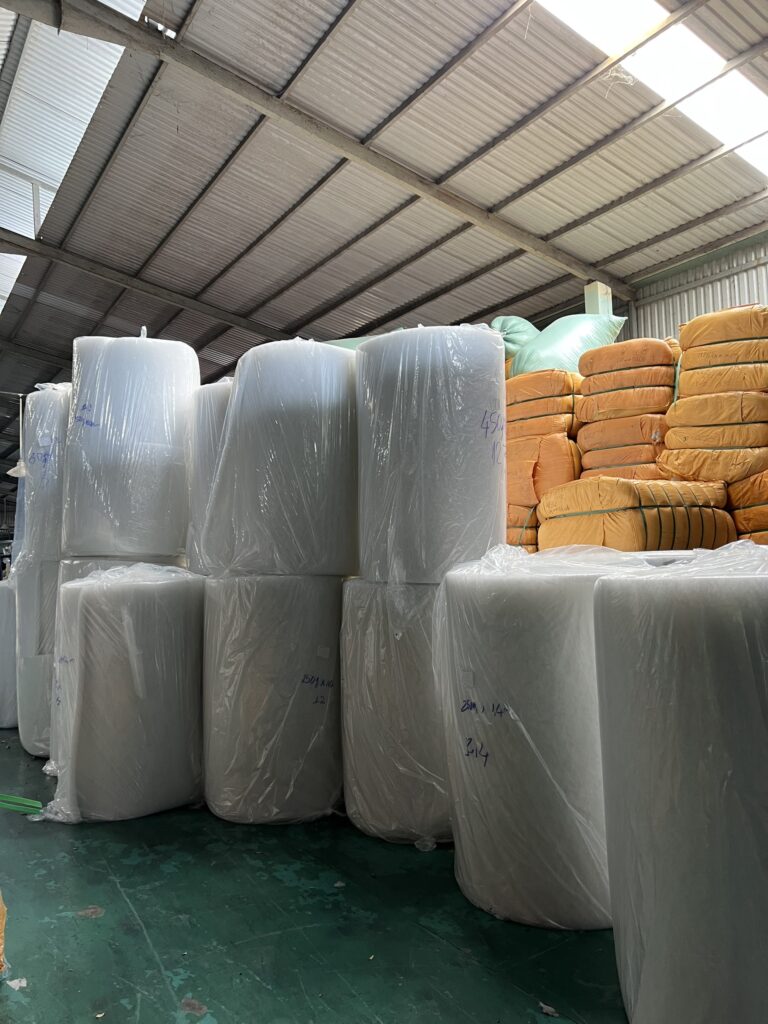 Dacron Bonded Polyester Batting Cotton Batting Upholstery FiberFill
Fire retardant dacron polyester upholstery filling wadding quilting batting
White dacron polyester filling
Fully fire retardant
Comes in either a 27″ or 54″ width
And a range of 2oz, 4oz, 6oz, and 8oz
Perfect for upholstery, furnishing, quilting, craft, cushions and much more
CALL NOW
WHATSAPP ME
PRODUCT DETAIL
Polyester fiberfill, or Dacron, is a soft batting material that is used for a range of projects and applications. Fiberfill is most commonly used as a wrap for new foam cushions. Dacron is what gives cushions their rounded, softer look. This material is recommended for all cushions and seats. Polyester fiberfill can also be used to fill throw pillows and bean bags, and is often used in DIY craft projects.
Polyester fiberfill wrap (also known as Dacron) can help improve the aesthetics of practically any seat or cushion. The wrap gives a softer, rounded look, while without it, a cushion would look flat and angular. Fiberfill also helps in sliding foam cushions into their fabric covers.
Bonded Polyester Fiber (also known as Dacron, wadding, batting etc) is generally glued to the foam cushion to give it a softer and rounder look. It makes the cushion cover look much fuller and plump but does not offer any strucural integrity to the cushion. It is commonly used on three sides as what's referred to as a C-Wrap in reversable sofa cushions; top, bottom and front edge. It will keep the fabric from wearing out before its time so it is also used anywhere the fabric gets used, inside arms, inside back and seat cushions. Having the foam cushion wrapped in fibre also makes it much easier to slide in and out of the cover when cleaning. This 200gsm grade is the most popular choice for general upholstery applications. Measuring at approximately 20-30mm in thickness but will easily compress down to fit into cover. Loft can vary slightly from batch to batch but will always be the same density and weight.
Dacron Polyester Upholstery FiberFill
Specifications:
Grade: 200gsm
Thickness: 20-30mm
Width: 150cm
Roll Length: Per Metre, Per 30m Roll
Package Size: approx 150x35x35cm @ 10kgs
Technical Parameter
Specification
Denier:    6D-15D
Type:   Hollow Mechanical crimp
Grade:  Recycle, First quality
Color:  white, optical white,
​Cut Length:  32mm-76mm
Finish:   silicon, slick, dry, FR, antibacterial, low shrinkage
Application.Filling Material: filling toys pillows (51/64)Spinning quilt/spinning cotton/cloth lining/slippers lining/(51/64)Needle-punched nonwoven/ polyester wadding/nonglue cotton/Filtering material/Hard mattress(51/64)
Staple fiber production process

The base material, which comes in chips, is melted in an extruder before being quantified in a gear pump and transferred to a nozzle. Polymers that pass through the nozzle are cooled and solidified in a spinning tank, and end up in a fiber form (semi-finished product). Fiber released from multiple spinning tanks is lubricated and gathered before being wound by a gear wheel and placed in cans. Fiber placed in cans is given various properties through a stretching process, in which fiber is stretched at various roller speeds designed to endow different degrees of rigidity and elasticity.
The fiber is again lubricated for enhanced quality and to facilitate the processes that follow. A crimping process takes place to give the fiber various properties, including bulk and mixability. Moisture and lubricant on the fiber is dried off in a heat dryer. The fiber is then cut into required lengths and end up in a bale form. The fiber is then compressed, packaged, and stored for factory release when ordered.
PRODUCTION PROCESS OF POLYESTER STAPLE FIBER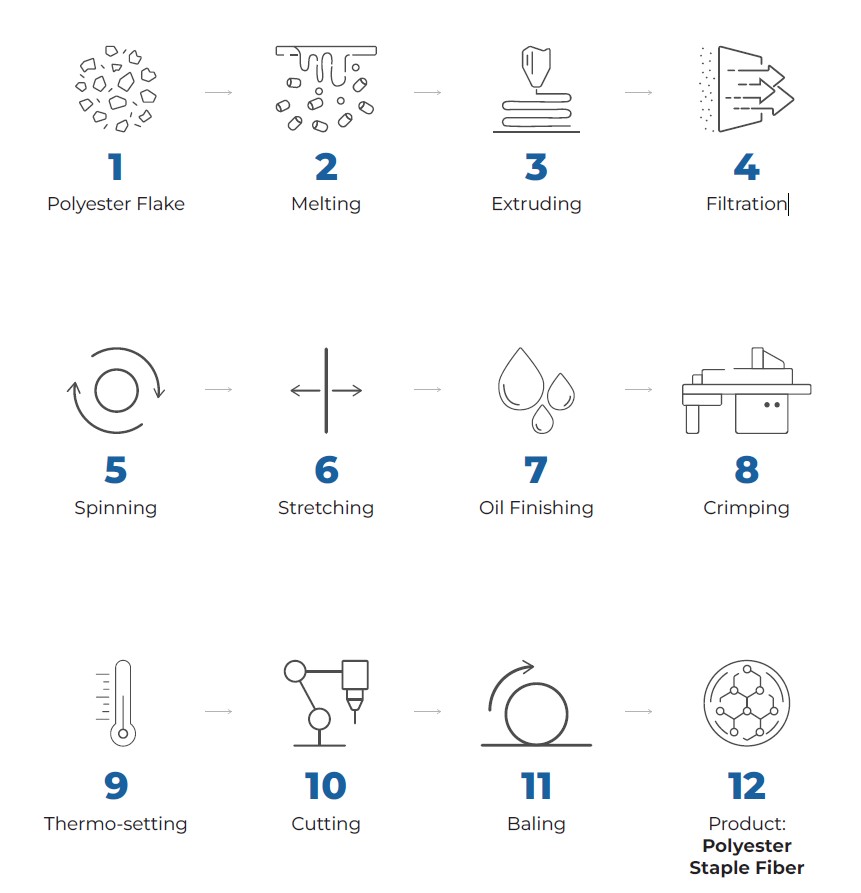 FAQ
1. What do you offer?
We produce recycled hollow conjugated siliconized and non-siliconized polyester staple fiber mainly, we can make hollow fiber (HS/ HD) and virgin polyester staple fiber HCS as well.
2. What is it used for?
Our fiber is widely used in filling, non-woven fabric
3. Are you a factory or a trading company?
We are a factory specialized in polyester staple fiber for many years but now we also have our own professional trading company. We will source many types of textile products such as yarn, PP fibers from others to supply our own customers as well. We also provide our own customers with other related products such as: Foam, Pillows, Cushions, Toys, Down/ Feather,…
4. Where is your factory location?
Our factory locates in the north and the south of Vietnam. You can visit us from Ho Chi Minh City and Hanoi City, Vietnam. You could contact our salesman to fetch you if visiting.
5. Can you accept free sample?
Yes, the hand sample is free when not exceed 1 kilograms. Upon price confirmation, we will provide a sample within 2-3 days; the freight cost will be charged to client.
6. Can you provide ODM service?
Yes, we work on ODM orders. Which means size, material, quantity, design, packing solution, etc, will depend on your requests, and your logo will be customized on our products.
7. How about your quality? What's the minimum order Quantity (MOQ)?
Please try a trial order, you will know it. The MOQ is 23,000 Kilograms/order, but the price will be lower if you order bulk volume.
8. Can I mix different items in one order?
Sure, you can mix any products we can provide.
9. How can you guarantee the product quality?
We have experienced QC team. We control not only productive process but also raw material. In addition, we have different kinds of testing instrument to help us guarantee the product quality.
10. What's the payment terms?
L/C at sight, 30% TT in advance are mostly accepted; other terms shall be negotiable by both sides
---
If you need further information,please feel free to contact me.
Beside raw material, I also offer home textile machinery or virgin polyester staple fiber sourced from my long term partners to offer one stop solution services for our clients.
I am looking forward to hearing from you!.
Thanks and Best Regards,
Tony Tan
Whatsapp number: +84 90 466 5251
Wechat: tony_tan8899