What is POY yarn (Partially Oriented Yarn)?
Production Process of POY (Partially Oriented Yarn)
The polymer in the melted form from the polycondensation section is cooled in a polymer cooler, filtered, and after pressure boosting it is distributed to the spinning manifolds and then to the spinning positions. The polyester melt from the spinning position is extruded through spinnerets by variable speed-driven spinning pumps. The extruded filaments are cooled by precisely controlled conditioned and filtered air in the quench chamber. The filaments are then passed through the finished application system. The filaments are taken on take-up winders and finally wound on bobbins. The yarn produced is extremely fine and the unit of fineness is a denier. The spinnerets and spinning manifold are jacketed and heated with vapor.
Application of POY (Partially Oriented Yarn)
POY is mainly used in texturizing to make textured yarn, also known as Polyester Drawn Textured Yarn (DTY). POY can also be used in draw warping for weaving and warp knitting of fabrics. This type of yarn can be used as a base for the production of all types of texturized yarns (DTY, ITY, and ATY) and all types of draw threads (FDY).
POY / PFY is largely used in shirtings and suitings, sarees, ladies' dress material, and knitwear. POY/ PFY is preferred in men's wear due to its higher crease recovery, wrinkle resistance, better drape, longer retention of prints and colors, and better abrasion as compared with other fibers, such as PSF, VSF, and NFY. The use of POY / PFY has increased due to the development of crimping, twisting, texturizing, and wet processing technologies. These technologies offer more flexibility in designs and patterns. Moreover, these technologies help increase the air permeability of POY / PFY.
As a result, the fabric would be able to absorb more moisture. POY / PFY is also used in applications, such as soft luggage and specialty fabrics. POY is sold by producers to the texturizing units. The texturizing units process POY and sell it to weavers (largely in the power loom sector). Unlike PSF, PFY is not blended with cotton by blended yarn producers, since it is in the filament form and not in the fiber form. However, in the power loom stage, PFY can be woven with other yarns.
POY yarn is available in different lusters like Semi-Dull POY and Bright POY. The Bright POY has the shine in it due to the cross-sections in the filaments. The fabric made from Bright POY also has a bright luster. Polyester POY yarn is mainly available in Raw White color & is also available in different colors. POY is usually colored by the Dope Dyed technology as it is more efficient & the yarn gets evenly colored at each & every part. Color master-batch is mixed with the raw material to make the dope dyed POY. Dope-dyed POY yarn can be used to make the Dope Dyed DTY yarn.
POY yarn is mainly available in packing of 15 Kg per cheese & is usually packed in pallets.
POY made on Barmarg machines from Germany and TMT machines from Japan have the highest quality.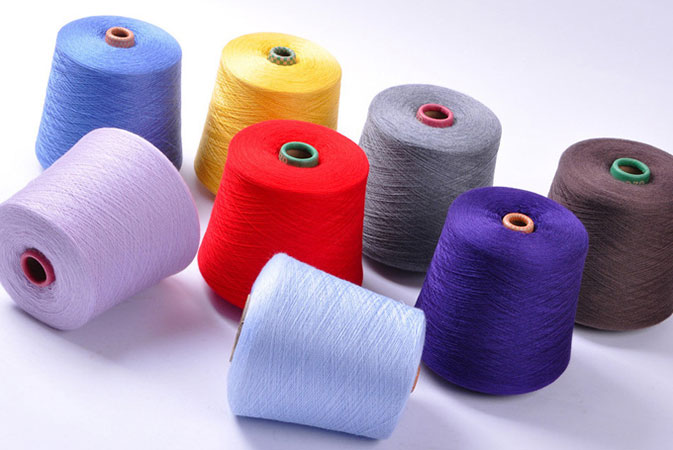 What is FDY yarn (Fully Drawn Yarn)?
What is DTY Yarn (Draw Texturized Yarn)?