The first generation of cellulosic was produced in the 1890s – known commonly as
rayon
 or 
viscose
. Although newer generations of cellulosic have emerged over the past 120 years, rayon/viscose is still the most common form and is the least environmentally friendly.
Cupro
Cupro is a regenerated cellulose-based fabric in the rayon family – an older relative of viscose, prized for its silk-like qualities and its easier care.
With a long historical pedigree, cupro has been known as the best-quality rayon, with extremely fine filaments, and no surface markings or striations. When blended with cotton, it can produce a textured, slub finish.
Cupro dyes very well, yielding rich colors. It drapes like silk, can be easily cared for like conventional rayon, but breathes and regulates like cotton. It is used for chiffon, satins, nets, and sheer fabrics, as well as for lining quality clothes, as it lasts better than silk but feels nicer than acetate, another type of rayon.
Cupro is also known as 'supra, 'Bemberg' (after the company J.P. Bemberg that first made it commercially in 1901), 'ammonia silk' in some outlets in China, and its full name cuprammonium rayon. The latter two labels point to the chemical side of cupro's parentage.
Cellulose from cotton linter – the very fine, downy fibers that enfold cotton seeds, otherwise known as cottonwool – is used to make cupro. This is dissolved in a solution of copper sulfate and ammonia before being processed with caustic soda and pressed through a spinneret in a similar way to viscose.
The heavy chemicals involved in the process have led the United States to stop manufacturing cupro because of the costs of cleaning up the wastewater to meet US regulatory levels. It is still made via a closed-loop process in Japan by Asahi Kasei, which began manufacturing it in the 1920s.
A Swiss scientist first discovered that copper salts and ammonia could produce the fiber in 1857, but it was a French chemist who patented the process in 1890.
Modal
Modal is sometimes referred to as a second-generation cellulosic fiber, improving on traditional viscose both in its performance as a fabric and its record on sustainability.
Softness and breathability are the key attributes of modal, making it a go-to choice for use in lingerie, base layers, and activewear. Modal has a higher wet strength' than conventional viscose, meaning that it won't shrink or lose its shape during washing. It is also up to 50 percent more absorbent than cotton per unit volume.
Modal fiber dyes and retains color well, and can be blended with all types of fibers – cotton, wool, silk, synthetics, and bast fibers. It can be mercerized for added strength and luster. Modal is also biodegradable.
Modal currently accounts for 3 percent of all cellulosic production.
Modal is a generic concept that was first developed in Japan in 1951. By 1964, the Austrian viscose fiber producer Lenzing had launched its Modal brand, which is still today one of the best-known fibers on the market. Modal currently accounts for 3 percent of all cellulosic production.
Modal fiber is produced from beechwood pulp. Lenzing sources more than half their supply from Austria and the remainder from neighboring countries, all said to be sustainable plantations. Birla, another leading modal producer based in India, also makes clear that it sources sustainably from Canada and Sweden.

Mixed record for generic modal
Not all modal producers are so transparent about their sources and green campaigners allege that some are felling rainforest in Indonesia to plant feedstock for the modal. Campaigners believe that many modal garments made in China will contain modal fiber sourced from Indonesia. According to Textile Exchange, only about 2.5 percent of modal uses stock from certified sustainably managed forests.
Generic modal production uses the same methods and chemicals as viscose production – carbon disulfide, sodium hydroxide, and sulphuric acid (all known toxins to human health and the environment). Up to 70 percent of the chemicals and water are recycled in a semi-closed process, whereas none is recycled in viscose production.
Lenzing has improved on the generic modal process. Its Modal is produced via a closed-loop process that recovers up to 95 percent of production materials, reducing its carbon and water footprint. This more environmentally friendly system is not commercially available to other producers. Birla says that its system also re-uses all by-products from closed-loop bleaching processes.
Modal, another type of rayon using beech trees with a similar process to viscose. The company Lenzing, selling modal under Lenzing Modal® only uses trees from sustainably harvested forests (PEFC certified) and employs an eco-friendly bleaching method. However modal is produced by many other manufacturers who don't necessarily use sustainable processes.
Despite its sustainable credentials, Lenzing Modal® production is ranked D in the Made-By Environmental Benchmark for Fibres. This puts it ahead of cotton, wool, conventional viscose, and bamboo viscose but still only in the middle of the ranking.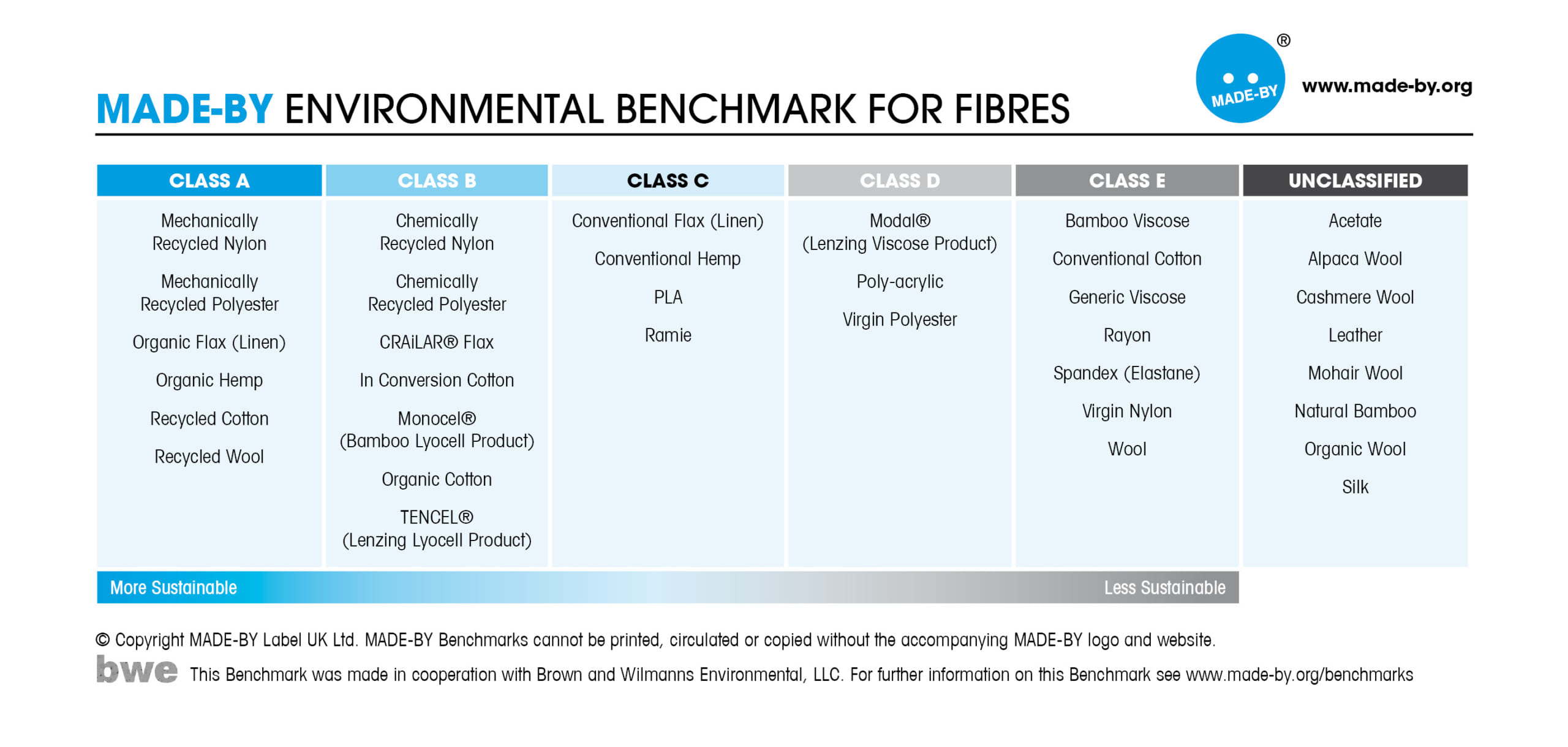 Tencel and Monocel
Lyocell is the third generation of cellulosic fibers, following on from viscose and modal. With superior performance and greater sustainability than previous 'regenerated' fibers, lyocell use is expected to grow significantly.
A handful of lyocell products are currently available, although two dominate – Tencel from the Austrian fiber producer Lenzing, and Monocel from the Nordic company of the same name.
For apparel, the appeal of lyocell lies in its ability to manage moisture – it absorbs 50 percent more moisture than cotton then quickly releases it into the atmosphere. This helps to regulate body temperature and avoids a build-up of bacteria on the fabric's surface, enabling garments to stay odor-free for longer.
Lyocell fabric is extremely soft, anti-static, and anti-bacterial. It blends well with other fibers, increasing their tenacity and durability. It is also biodegradable and is said to require less dye than cotton.
Originating in the United States in the early 1970s, lyocell now accounts for up to 6 percent of all cellulosic production, according to Textile Exchange. The global non-profit reports that its members increased the use of lyocell by 128 percent from 2015 to 2016.
Nanotech boosts sustainability
A closer look at lyocell's inherently anti-bacterial properties may partly explain its more sustainable reputation. No chemical additives are used. Instead nanofibrils – the tiniest hairs that makeup fibers – channel away from the moisture, preventing bacteria from forming, thus enabling multiple wears before each wash.
This is a clear environmental gain: much of a garment's impact derives from its care – from the energy and water consumed in washing, the polluting effect of detergent, and the increasing problem of microfibres washed into waterways and oceans. Less washing means less wear and tear on the fabric – so a garment will last for longer.
Lyocell brands Tencel and Monocel offer further sustainable credentials. Both brands are in class B of the Made-By Environmental Benchmark for Fibres – two classes ahead of nearest cousin modal, and three ahead of bamboo viscose and generic viscose.
Tencel and Monocel both boast origins from sustainably managed sources – eucalyptus is grown on non-agricultural land for Tencel and bamboo from China for Monocel. Bamboo is a fast-growing giant grass that regenerates from the same root, making it a rapidly renewable source. Only 5 percent of lyocell generally uses feedstock from certified sustainably managed forests, Textile Exchange reports.
The pulps for Tencel and Monocel are processed much more sustainably, according to their producers. They use a closed-loop spinning process, in which almost all the water and chemicals are recycled. An organic solvent is used instead of sodium hydroxide to dissolve the pulp. Lenzing's process has won an environmental award from the European Union.
There are still concerns about the amount of energy used, although Lenzing is reported to be looking at increasing renewable sources to address this. The company has also launched Refibra, a lyocell created from recycled cotton scraps and wood pulp.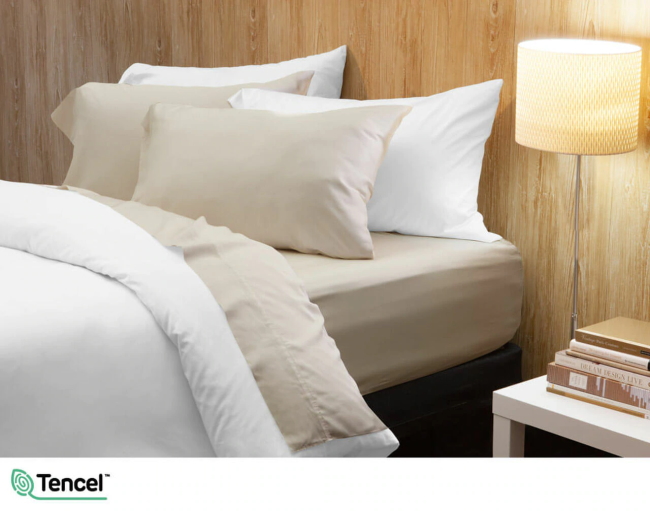 What is Tencel Lyocell?
Lyocell is a manufacturing process of rayon that is much more eco-friendly than its relatives modal and viscose. Lyocell is made in a closed-loop system that recycles almost all of the chemicals used. "Lyocell" is the generic name of the manufacturing process and fiber. Tencel® is the brand name of the lyocell commercialized by the company Lenzing AG. Tencel® is made from eucalyptus from PEFC certified forests. Eucalyptus trees grow quickly without the use of pesticides, fertilizers, or irrigation.
Just like rayon and viscose, lyocell is 100% biodegradable.
Ioncell-F is another rayon developed by Aalto University in Finland, similar to Lyocell but considered to be even more sustainable.
TENCEL™ Lyocell fabric is extremely soft and suitable for sensitive skin. It's a man-made cellulosic fiber extracted from wood grown in sustainable plantations (often eucalyptus). The lyocell fiber production process is environmentally friendly at all levels as no hazardous chemicals are used. The solvent (NMMO) and water used for its transformation are up to 99% recycled subsequently in a closed-loop process.
TENCEL™ is a trademark of Lenzing AG.
There is a Lenzing lyocell plant in the US. So it can be produced locally. Moreover, TENCEL™ Lyocell with REFIBRA™ technology opens the door to using recycled cotton scraps (up to 30% as of 2020) which is pretty cool.
There's a bunch of new fibers made with either wood from certified sustainable plantations, agricultural waste, or post-consumer cotton clothes. These a great but currently unavailable to market like TENCEL™ Lyocell is.
So TENCEL™ Lyocell is number 3 with its closed-loop transformation process and all-around carefulness for the environment.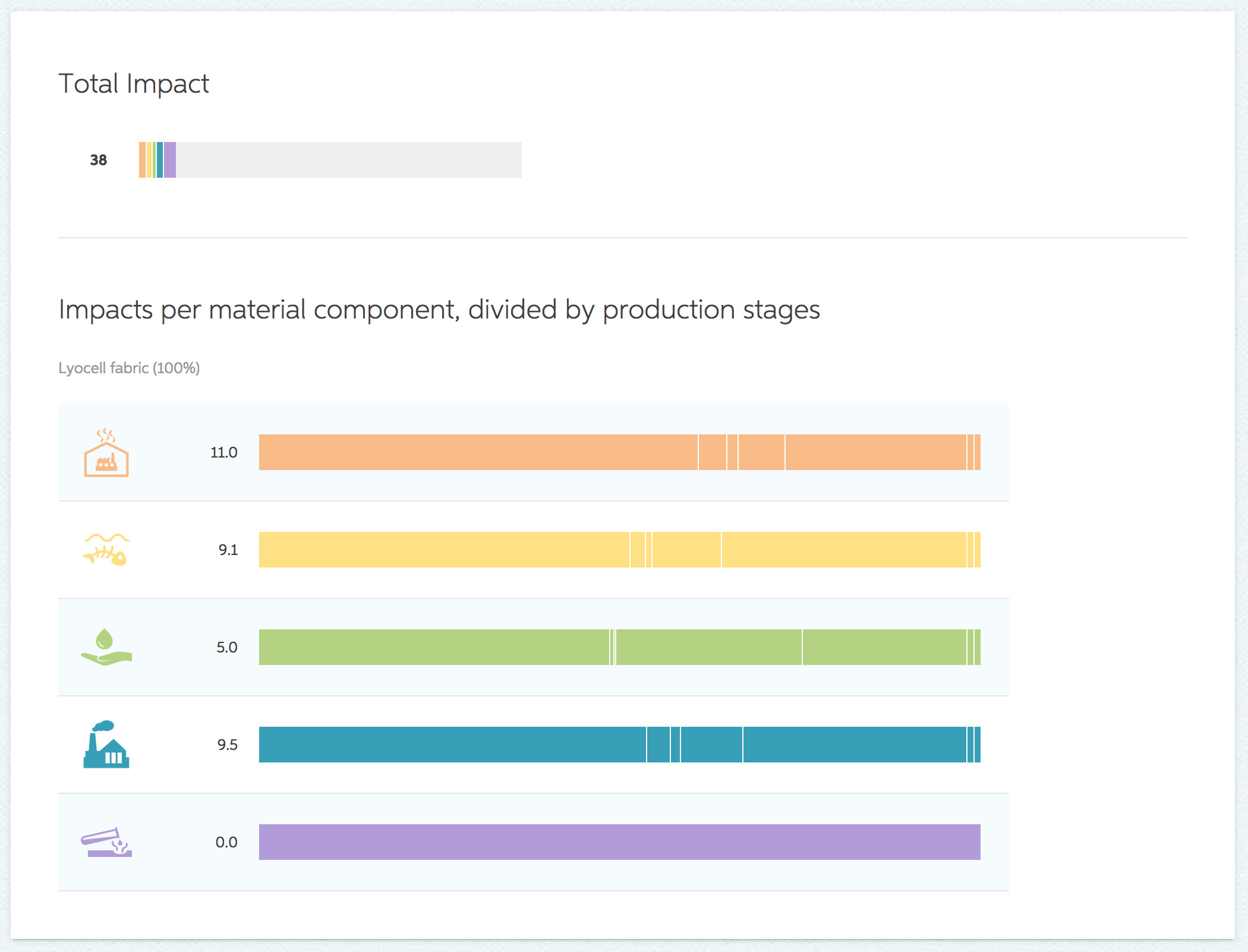 Pros:
Eucalyptus grows on arid land, on which it's impossible to plant other crops.
Requires no irrigation water.
Grows without the need for insecticides or pesticides.
Lyocell is inherently eco-friendly.
Easy to dye and wash.
Comfortable and soft.
Excellent moisture management.
Biodegradable
Wood comes from certified responsibly managed forests.
There is a plant in Axis, AL, USA. Can be locally transformed.
Cons:
The raw material used is wood… so they do have to cut down trees.
From my experience, TENCEL™ Lyocell is not as durable as viscose. Fabric will wear out faster.
That's not a lot of cons…TENCEL™ Lyocell is pretty good on the planet.
Source: https://respecterre.com/blogs/news/the-best-eco-friendly-fibres